Our 1931 Adobe Gets Ready For Its Second Debut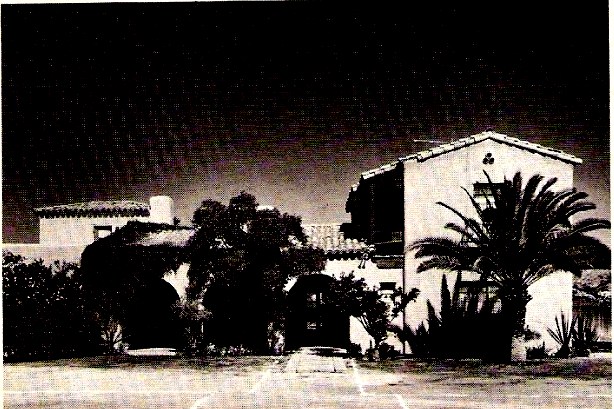 We've been working with our owner, John Pappas, on our project's submittal to the 2017 Governor's Heritage Preservation Honor Awards, and it's been a great opportunity to look back on the project, recall what we've been through collectively to achieve John's goals, and also look forward in terms of how we can tell and teach people about it, and share what we view as the amazing story (stories?) behind a beautiful project.
As part of the Awards submittal process, we had to create a short project narrative to describe the project, and "make the case" as to why the project should receive a Governor's Award. We've been working on the narrative this week, and thought it would be nice to share it here, where we can indulge in a fuller history and description than on our "portfolio page" for the project:
The 6330 E. McDonald Residence (Louise E. Glaus House), thoughtfully restored over the course of the past few years, stands as an example of inspired preservation effort. One of the first structures in Paradise Valley, it was once vacant and neglected, in danger of becoming yet another tear down. But now the long restoration process has revealed the beauty and simplicity of the original adobe structure and honors the home's long and storied history.  Designed in 1931 by noted architect Robert S. Evans, and constructed by Duncan McDonald – one of the original developers of Paradise Valley, Arizona, it represents a collaboration between two major figures in local architecture and development. It also serves as a testament to its original owner, Louise Glaus, one of the many women instrumental to the creation of Paradise Valley, and was once the home of famed architect Bennie Gonzales, who owned the property from approximately 1967 to 1972.
Research for the project began with a handful of historic photos provided to the owner, and that collection expanded with the help of local historians, architects, historical societies, and library collections and their resources. An important early discovery was a 1970s-era article from an architecture magazine, showcasing Bennie Gonzales' renovation of the home, and providing the original floorplan as well as a picture of the original facade. More key information came through National Historic Register nominations written for other Evans houses. These led to the ASU archives, which contain the last known existing copies of Adobe, a circa 1930 magazine published by Evans, and documenting his work with a wealth of photographs, drawings and written descriptions. Visits to other existing Evans structures provided further guidance to the small but important details that signified his work. The sum of these research efforts provided both the template and the inspiration for the restoration.
The scope of the restoration and renovation involved the 4,600 SF main house, along with a guest casita and 3-car garage constructed by Gonzales.  A second guest casita was added at the southeast corner of the 1.7-acre property, its design inspired by a home designed and constructed by Robert Evans in the Phoenix Palmcroft neighborhood, and featured in an Adobe article.
Gonzales added both family room and master suite additions to the main house, as well as the free-standing guest casita and garage, and the restoration plans retained these additions, incorporating their simple rectangular massing into the revised design composition, thereby retaining their usefulness in the floor plan, and their place in the home's story.
During Gonzales' ownership of the house, nearly all of the original window and doors were removed and replaced with standardized aluminum storefront windows and sliders. Many original door and window openings were concealed with "studs and stucco", and a second story wood balcony was enclosed as a reading nook. While some hidden openings were evident in the historical photographs, a thermal-imaging camera was used to locate hidden openings. Gonzales had also removed the original plaster arches from the front loggia (replacing them with fixed windows) to create a solarium, and removed interior plaster arches in the living room, before concealing the wood deck/beamed ceiling with a flat stucco lid.
During the restoration, the low-pitched roof was reconstructed to accommodate increased insulation, thereby allowing the original beam ceiling to be revealed and restored. The damaged areas of original adobe were repaired or replaced with custom fabricated adobe units sized to the originals, and a period-appropriate, hand finished exterior stucco was applied. Loggia arches were reconstructed, and a combination of steel sash and high-efficiency aluminum clad wood windows were seamlessly blended together at the old/original opening locations.
In the interior, removal of the stucco layer added by Gonzales uncovered a wealth of original details. The original hooded fireplace, barrel arches, and staircase were revealed and restored. The original colored and scored concrete floors were also uncovered and cleaned up, then replicated at the new guest casita, poured with hard shake color and scored with a custom-fabricated tool to match the decorative control joints. Finally, period-appropriate tilework, bath and light fixtures were installed to complete the interior design palette.
At exterior living areas, thick fired adobe pavers and Arizona-sourced flagstone create the basis of the hardscape plan, with porch and loggia areas done in scored warm-gray concrete, to replicate the original front loggia concrete paving.
The home has been fitted with highly efficient HVAC and tank-less hot water systems, as well as a 6 kVA solar array hidden on top of the garage. The turf surrounding the front of the main house was removed, which will lessen water use and help prevent damage to the adobe structure.
The result of these efforts is a home that has regained its original style and charm, while achieving the functionality and efficiency of a newly built house. Its impressive history and prominent location guarantee that it will be seen and talked about for years to come. It is the hope of the owner and the entire design and construction team that their work will inspire others to consider the benefits and possibilities of preservation efforts, and show that such work is meaningful, valued, and rewarding.
It's been an amazing process, and we've learned so much along the way, which is always one of our goals taking on a project (right after the goal of having a happy owner!). We're really grateful to have been given this opportunity – it's been very rewarding to have so many people in the design and construction community tell us how they've been watching the process as the house went through demolition, got its new doors and windows, then its beautiful new stucco, etc., and we're really proud of the result. Also, a lot of really great tradespeople spent a lot of time patiently listening to us as we waved our arms on site trying to explaining what we wanted, then diligently working to accomplish what they thought we meant.
We think they got it right . . .